The traditional approach to planning tries to predict the future in order to try to control the destiny of the organisation; modern approaches use the planning process to build flexibility and adaptiveness. We are firm advocates of the latter, believing that learning and exploration are the keys to survival.
We have put together a PowerPoint presentation which gives more information about our approach. It expands on the brief overview given below:
We use

methods

such as scenario planning and environmental scanning

;

helping organisations to develop and test a range of strategic options so that they can respond to their changing environment and also help to shape it (the adaptive organisation co-evolves with others in its 'business ecosystem).
The "Strategic Triangle" below gives an indication of the way that we approach the different aspects of planning: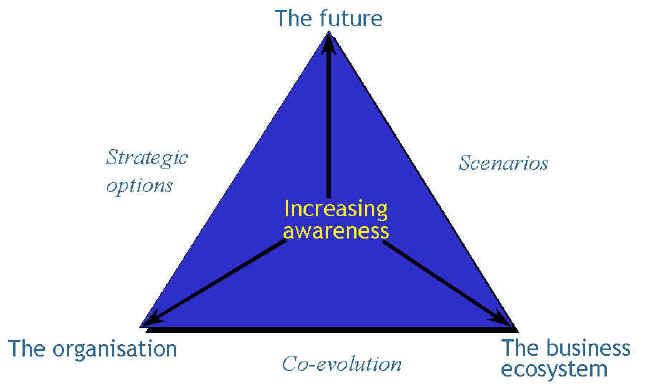 Strategic Triangle copyright © 2000 New Paradigm Consulting
There are three 'learning aspects' which characterise the planning process, which occur in the relationships between the corners of the Strategic Triangle. All of these aspects interact with one another so the order given below is purely arbitrary; any other order would do just as well.
Between the organisation and its business ecosystem—that is those other organisations which which it competes or collaborates (or sometimes both)—there should be a relationship of co-evolution. The planning process helps to uncover the web of relationships and to delineate the relative fitness of the different players. We use a variety of approaches to 'ecosystem mapping' to help discover these.
Between the organisation and its future are a number of strategic options. Any organisation has a number of possible paths it could take and a range of different ways in which it could develop. The wider the range of possibilities, the more adaptive the organisation will be. Of course, it is necessary to make a decision to take one particular path (dithering is not a strategic option) but the adaptive organisation is always prepared to take a different path when it is appropriate. Organisations which fail are usually those which continue down a path even when it becomes clear that it is leading nowhere.
Between the business ecosystem and the future are a wide range of possible futures. Scenario planning, originally developed at Shell, is an ideal way of trying to anticipate these possible futures. The aim is not to try to predict the future but to come to a greater awareness of the possibilities.
A slide presentation can be viewed which gives an idea of a typical planning process, though all our work is tailored to the needs of the organisation.
Strategy & Culture
People often ask about the relationship between strategy and culture. Our position is briefly thus:
| | |
| --- | --- |
| | A change in strategy is effectively a change in the 'governing story' which an organisation tells about itself. |
| | If the strategy is to be effective, everyone in the organisation needs to be re-telling that story, adapting it to their own circumstances. |
| | If people are to tell different stories they need to be able to have different conversations. |
| | Since culture is what we call the emergent result of all the conversations and stories which take place in an organisation, the culture will inevitably change if new stories and conversations take place. |
| | Most attempts to change strategy founder because there is no 'space', 'permission' or 'capability' for new stories and conversations to take place. |
Some key references:
de Geus, Arie 1988. "Planning as Learning", Harvard Business Review, March-April, p
p

. 70-74.
Wilkinson, Lawrence. "How to Build Scenarios" Wired Magazine.
A popular account by one of the partners in Global Business Network, one of the leaders in scenario planning.
A good resource page with lots of information on scenario planning can be found on the Plausible Futures site.